SRAM has released some "leaked" info on their road disc brakes, as well as their hydraulic rim brakes.  Thanks to Road.cc for the photos.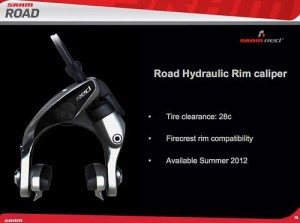 First up, the new hydraulic rim brakes are designed to take a 28mm tire, be compatible with wide style rims (like the Zipp Firecrest) and will work with the revamped Red hydraulic levers (shown below.)  These seem to be quite different than Magura's hydraulic rim brake as seen on the Cervelo P5, designed to work more like a traditional caliper that is actuated by a small hydraulic piston.  The design is very well executed, looking sleek and refined as the photo shows.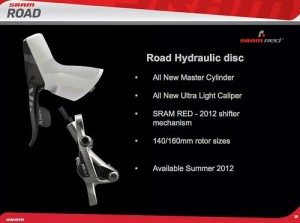 The hydraulic disc option looks like a very pared down version of the Avid Elixir mountain bike disc brake.  There's no doubt it will be lighter than the mountain variety, but I question the stopping power it will provide with such a small piston (and supposedly only using 140mm and 160mm discs.)  Mountain passes should be interesting.
Sadly, the lever is NOT the same as the new mechanical Red, with a taller hump on the front of the body which presumably houses the master cylinder.  This means yet another different body design to adjust your hands to, incompatible parts (brake lever blade, body, hoods, etc) and no option to simply swap to mechanical parts by removing the master cylinder from the lever (there was some speculation hydraulic master cylinders could be retrofitted to the new Red levers, but that's not the case.)
All in all, not bad.  I don't think it's going to have the desired effect in road racing for quite some time.  One of the biggest hurdles in the widespread acceptance of road disc brakes is the lack of disc specific frames, forks and wheels.  While companies like Volagi are already producing disc specific road bikes, it will take a while for the mainstream manufacturers to catch up.  It seems that manufacturers typically flesh out their next model year by the summer, so they may be running too close to deadlines to be able to include disc specific options.  Wheel manufacturers have the challenge of fitting something else in the 130mm rear spacing used by road bikes; not only do they have 11 cogs and the actual spokes, but not they'll need disc mounts, and that could take some time to engineer.  Some cyclocross frames are ready to rock, however, sporting 135mm rear spacing (lots of disc hub options) and disc caliper tabs.  Cyclocross racers will rejoice with the power and modulation provided by hydraulic discs far before road riders will, I'm afraid.
What probably will be a big seller around the summer release will be the hydraulic rim option.  Greater overall stopping power along with (what can be guessed to be) excellent modulation and almost maintenance free existence will be a blessing for those who are sick and tired of faffing with brake cables and other brake hardware.  I can also see this option as being quite popular on the next model year's bikes as well, since it should be a bolt on replacement.
More info can be found on my update here: SRAM Red Hydraulic Updates.
Update 3/31/12: You can check out Colnago's C59 Disc with formula hydraulics right here.