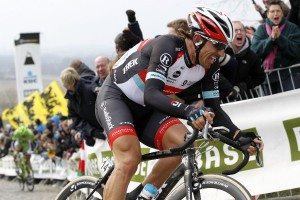 [dc]T[/dc]he spring classics are in full swing, with fans and riders deep in the throes of Holy Week. With Scheldeprijs being only a day away and Roubaix looming on Sunday, the cobbled classics are nearing a close, although no doubt we are in for some more spectacular performances. Up next will be the Ardennes Classics, with their steep bergs and tortuous descents. For many cyclists, it's the absolute best part of the season, if not for riding but for watching.
Watching these races inspires many but saddens some at the same time: "Why can't I climb like that" and "I don't know how he does that" are common phrases uttered while riders shatter the steep bergs and cobbled pitches of the classics. It takes a special kind of rider to be able to climb that stuff, right?
Nope. What if I told you everyone can train to be better on the moderate length, steep climbs. And for the duration of the classics, I'm GIVING AWAY a HIT workout that will help you do just that.
Simply copy the enter the code "classicsgift" between now and April 21st (Liege Bastogne Liege) during checkout to get your FREE "Berg Buster" HIT workout (available below).
Workout details: Paying homage to the medium length (1 mile in length or less) steep bergs of Belgium, this HIT workout is designed to train your body for the stresses of attacking moderate climbs. Grouped into blocks, the first block will focus on pushing hard gears through your most powerful muscles (glutes and hamstrings) and accelerating in the saddle using your quads, simulating surges in the peloton. The second block will force you to get comfortable accelerating out of the saddle to simulate covering attacks from the front. The third block puts it all together, teaching you how to be a berg busting ace!