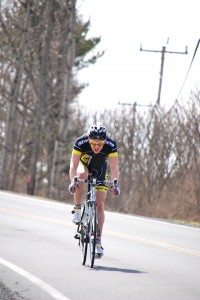 Tour of the Battenkill has positioned itself as America's Queen of the Classics!  With an open gran fondo and an open pro/am race, Battenkill is one of the premiere gravel grinder challenges in the US today.
Chalking up 64 miles, 8 dirt sections (making up 15 miles) and 4000+ feet of vertical gain with 17% maximum gradients, Battenkill is not a race (or gran fondo) for the faint of heart.  Though it may sound like a tall order, my training solution has been proven again and again to prepare you for the worst conditions and toughest challenges.  After multiple iterations of my Battenkill training plan, I'm delivering the best of the best for you here.  You'll be the king of the peloton with this 24-week complete training solution.  You'll start with testing and base work, move through build and climbing training and finish up on a high peak as you roll into Battenkill a stone cold killer, ready to climb to the top step.
If other gravel grinder races are more of your bread and butter, fear not.  This program is suitable for any kind of dirt road, gravel grinder or epic enduro event.  Got the Dirty Kanza on your list?  Check.  Monkey Knife Fight?  Check.  Any gravel dream you may have?  Check.
As a bonus, I've written my Unbreakable Core Stability program right into the Battenkill training plan.  You'll get that written into the program (a 50$ value) because core strength and stability is THAT important when riding off road.
Here's what you'll get:
24 weeks of training, broken down into 4 strength/base weeks, 8 cycling base weeks, 8 build weeks and 4 peak weeks
Up to 10.5 hours per week of training
Build muscular endurance, leg speed skills and raise your functional threshold power
Utilize my revised 20-minute strength training workout to give you increased muscular endurance and explosive power on the bike
Put down huge power on the dirt by keeping your core strong and durable with my included Unbreakable Core Stability program.
Become proficient in the zone 4 and 5 work necessary to handle changes of pace in the field
Become confident riding on dirt roads by performing skills and workouts on unpaved terrain
Test your mettle with a dress rehearsal: a 4 hour "mock race" before tapering into your racing peak
*Note that my Unbreakable Core Stability module uses a kettlebell and mobility bands as recommended on my Strength, Mobility and Training Essentials page.