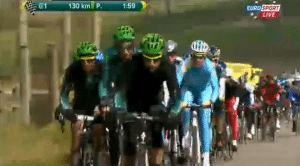 [dc]T[/dc]here's no better introduction to "Holy Week" than the celebration of Easter. However, the real thrill of the day (besides 55 degrees and no cars on the roads) is the 97th running of de Ronde Van Vlaanderen or the Tour of Flanders. As always, the storylines are written and the battle lines are drawn up:
Peter Sagan's amazing early season with his win at Ghent Wevelgem, Fabian Cancellara's realization of his Flanders/Roubaix double winning form of 2010, Tom Boonen's run of bad luck throughout the spring, Philippo Pozzato's eternal struggle for that big win, Thor Hushovd's newfound confidence….
It's the perfect soap opera to be played out on 256 kilometers of the roads of Belgium on a chilly Easter Sunday.
Welcome to Holy Week.
*UPDATE*
7:05AM, 3/31/13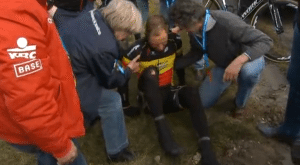 I had written this post a few day ago and instead of editing it down, I'm going to just add this as a footnote: Tom Boonen, in the hunt for his record breaking 4th win at Flanders, has crashed out of the race after 19k. There will be no battle between Sagan, Boonen and Cancellara. There will be no Belgian tricolore on display today (or likely for Roubaix either.) This could be as game changing as Cancellara's feedzone crash in Flanders last season.
Get better soon, Tom.