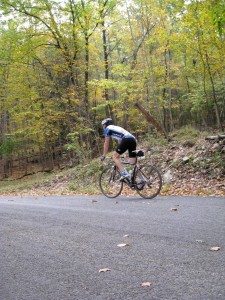 [dc]I[/dc]f you're anything like me, you've spent the last nine months absolutely killing yourself in the endless quest for better endurance, podium placings and bigger power numbers. Nine months of time have been spent being obsessed with numbers, following training plans and interval workouts to the letter, all in a quest to improve performance.
If you're anything like me, you've seen the fruits of those labors. You've seen the payoff for all the hours of training, the time spent poring over training and race data. The numbers have gone up (hopefully), the placings have come, goals have been met and you've had a season to be proud of.
If you're anything like me…you're tired.
Your body is probably worn down from the repeated thrashings at the hands of teammates, other racers and your own dedicated training. Your legs probably don't feel like putting out big watts over long rides anymore. Your motivation to get out and train your body into oblivion is likely waning. Unless you're in full on cyclocross mode, you're probably not even thinking of racing, except to begin plotting out your training and racing schedule for next season.
That's the perfect cue to throw your training plans out the window and rediscover the thrill and wonder that just riding your bike can bring. All too often we get caught up in the technology, the numbers, the goals and training in general, and we forget why we started riding and love riding our bike. Fall is the time to let it all go (unless you're a 'cross racer) and just enjoy the ride.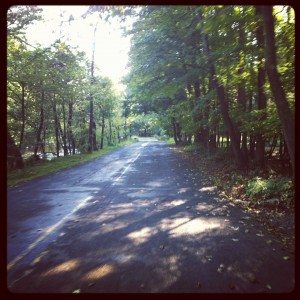 The crisp spice of fall air and the crunch of leaves under rubber are the harbingers of the off season. Embrocation adds a wafting aroma that is unmistakable in the brisk morning air. For the first time in a year, you are able to forget about speed, pick your head up off the stem you've been chewing on as you bled from your eyes for the season, and notice what's going by around you. The beauty of the countryside becomes the focus of the ride, rather than a mere distraction from the pain of training. There's no longer guilt in stopping for a mid ride espresso instead of doing hill repeats, and people are willing to linger in the autumn sunshine a little longer at the table while you discuss the nuances of arm warmers and shoe covers.
Do yourself a favor and go out for a ride. Not a training ride, just a ride. Either leave your computer at home or change the screen to show nothing but distance; no power, no cadence, no heart rate. Simply pick a direction and just go wander. Meander through the brisk fall air and fallen leaves, climb up that road you've passed by many times before, stop for a cider donut and enjoy the ride. You know you've worked hard for months, and now its time to enjoy the fitness you've built by saddling up for some carefree wanderlust. If you're anything like me, you'll discover things you never knew where there.
Sometimes it's good to be tired…