Anyone who knows me will tell you I hate cluttering up my saddle with a saddle bag.  I'm a stickler for keeping things in my pockets.  If you want to get technical, it's in the rules.  Because of that, my pockets often look like an overstuffed lunch bag.  Or, you might think I've got half of a Home Depot shoved into my jersey.  Either way, it's not a flattering look.
For years, I used a variety of solutions to corral the various tools and gear in my pockets.  I switched back and forth from a pump to a CO2 inflator.  I tried different multi tools.  Tubes went into a separate pocket with a band around them.  Sometimes I just rubber banded everything together and stuck it in a pocket.  For a while, I tried using a small camera case to hold everything together.
The bottom line is if you like keeping stuff in your pockets, it's going to get messy at some point.
That all changed when my wife bought me a bike tool roll.  A Donkey Label bike tool roll to be exact.
Click through to see my review of the Donkey Label bike tool roll and learn how to purchase one yourself.
Organization Matters
When you're stuffing things in your back pockets, you'll want to organize things properly.  I've discussed this before in my "Packing Your Pockets to Ride" quick video tip.  In that video, I showed you how to distribute a bunch of gear evenly and efficiently in your pockets.  Those tips still apply, but now there's a better way to keep everything neatly bundled together.
The Donkey Label bike tool roll bag
Call it a roll, call it a bag, call it whatever you want.  This bike tool roll is the answer to all my headaches when it comes to stashing the right stuff in my pockets.  Compared to sticking a saddle bag on your bike, this roll is a really simple solution.  Stash your spare tube and tools, pump and tire levers in the individual pockets, roll it up and stuff the whole thing in your center jersey pocket.
As I mentioned, I'm not a fan of saddle bags.  Sure, they're utilitarian and they work just fine.  But they're ugly and they stay on one bike.  Yes, style is subjective.  And you can always move your saddle bag from bike to bike.  But what happens when you walk into your garage, grab your spare bike, jump on and ride off.  If you didn't think to switch the saddle bag, you may be calling for a taxi if you get a flat.
By keeping that bike tool roll in your helmet or stuck in your shoe, you can't possibly forget it unless you forget your shoes or helmet too.  That's why I love something as simple as a bike tool roll bag: it's as idiot-proof as you can get.
The ethos of being a "donkey"
Donkey label is a smallish company located in Minneapolis.  They pride themselves on being as pure a company as possible.  What does that mean exactly?  Well, take an excerpt from their "About Us" page:
Donkey Label is as much an ethos as it is a Company.

That ethos is based on simplicity, in life and design. It's based on the belief that the process, ingredients and the people that go into making a product actually matter. It comes from our unapologetic approach to doing things the way we feel they should be done.
That's my kind of company.
This ethos is apparent in each and every piece of gear they produce (and I do have a couple of them.)  These bike tool rolls are made by hand, one at a time.  They are stitched out of tough denim with a decorative inner fabric.  The stitching is quite tough: these things are made to last for a long time.  And that's a good thing because each tool roll bag will cost you around $40.  There are 3 "styles" to choose from, each with a different graphic inside.
Form and function
Unroll the bag and inside you'll find 5 interior pockets to keep your tools in.  They vary in size from thin pockets designed for tire levers to a large pocket for a tube, so you'll always have a place for your tools.  There's enough space for a multi-tool, tire levers, patch kit, tube, presta/schrader adapter and even more if you need.
A really nice touch on the DL tool roll is the external pump pocket and the thick elastic strap.  When the bag is rolled up, you can still keep your pump together with the rest of your tools. Keep in mind that the pump pocket isn't that deep, so you can't stick a foot long frame pump in there.  The thick elastic band included does a great job of holding everything together and preventing the tool roll from flopping about.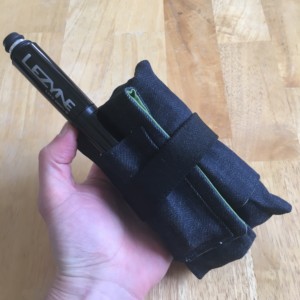 When wrapped up, it's about the size of a small water bottle, measuring around 9″ in circumference.  The compact form factor will let it fit in pretty much any jersey pocket.  If you want to stick it under a saddle, you can do so with a Binda strap.
What should you put in your bike tool roll?
Now that you know what the DL bike tool roll bag is all about, you have to figure out what to carry in it.
Tire levers aren't a necessity, but they're nice to have.  In most cases, you can manage to work a flat tire off the rim with your hands.  There are some rims that are very tough to get a tire off, so levers can be handy.  I've used a lot of levers in the past 15 years, and I've found that the Pedros tire levers and Lezyne tire levers to be some of the best.
If you get a flat, you'll need a pump in order to inflate your fresh tube.  I've reviewed the Lezyne Road Drive in the past, and I stand by that recommendation.  You'll have that Road Drive for years; it's that well built.  You can check out my review of it in this post.
Keeping a spare tube from flopping around is one of the main attractions of this tool roll.  Fold it up nice and neat, just like it comes out of the box, and it'll fit perfectly in the large pocket.  It's a little bit tough to keep a couple of tubes in the tool roll, but you can always stick another one loose in your pocket.  Of course, you should never be without a few spares in your toolbox to refresh any tubes that you use during your ride.
Patches can salvage a ride if you have multiple flats.  The Park Tool glueless patch kit has been a godsend on plenty of rides where multiple flats happen.  The glueless patches are simple: rough up the spot around the puncture and stick the patch down.  It's not a perfect solution, but it does keep you rolling for the rest of the ride.
If you need to make adjustments out on the road, a good quality multi-tool is an important piece of kit.  There are a ton of multi-tools out there, but I have a couple of go-to models in my toolbox.  The Crankbrothers Multi 17 is a great option that even has a chain tool.  I've carried the Lezyne Stainless 12 multi tool in the past, and I'm currently stashing the Syncros composite 12 multi-tool in my Donkey Label tool roll.
Wrapping it all up
Donkey Label has proven that a functional bike tool roll can look the part as well.  It's not necessarily cheap, but it does serve a valuable function.  It's also very well made, meaning you really get your money's worth out of it.  So check out Donkey Label and see what else they have to offer.
Donkey Label Bike Tool Roll
$40